Pedigree Planner for thoroughbreds, developed by Anne Meredith, is now available exclusively from www.mateyourmare.com, this has a database of over 200,000 horses including past and present champions from around the world plus stallions standing at present in Australia,and New Zealand as per the listings on www.mateyourmare.com website plus Australia and New Zealand Studbook of mares at stud.
Here are some of the features for a more detailed list click on the User guide.
You can insert any hypothetical mating of any stallion over any mare and see with the line-breeding showing in colours of your choice to 7 generations appearing on your computer screen.
able to go back till the original taproot mares 15 or more generations.
Displayed in colours of your choice to suit your own eyes
Relationships showing 3/4,5/8 and so forth
Xfactor if so required however it has been proven that this is irrelevant
X Chromosome line of Descent
Dosage can be calculated if required
Fussy search in case you misspell a name
Easy display of pedigrees you have done recently on a history list
Line-breeding by sex to exclude (0) x 4S,4D where linebreeding only appears in the dam
there are a lot of other functions as described in the user guide
Below is a typical 7 generation pedigree.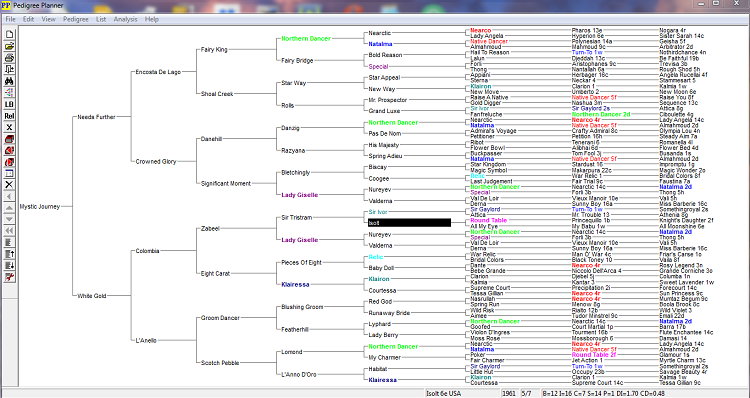 ​
Below shows a pedigree with male lines in blue and female lines in red with only double-ups on both sides